The world's largest public newspaper clippings archive comprises lots of material of great interest particularly for authors and readers in the Wikiverse. ZBW has digitized the material from the first half of the last century, and has put all available metadata under a CC0 license. More so, we are donating that data to Wikidata, by adding or enhancing items and providing ways to access the dossiers (called "folders") and clippings easily from there.
Challenges of modelling a complex faceted classification in Wikidata
That had been done for the persons' archive in 2019 - see our prior blog post. For persons, we could just link from existing or a few newly created person items to the biographical folders of the archive. The countries/subjects archives provided a different challenge: The folders there were organized by countries (or continents, or cities in a few cases, or other geopolitical categories), and within the country, by an extended subject category system (available also as SKOS). To put it differently: Each folder was defined by a geo and a subject facet - a method widely used in general purpose press archives, because it allowed a comprehensible and, supported by a signature system, unambiguous sequential shelf order, indispensable for quick access to the printed material.

Folders specifically about one significant topic (like the Treaty of Sèvres) are rare in the press archives, whereas country/subject combinations are rare among Wikidata items - so direct linking between existing items and PM20 folders was hardly achievable. The folders in themselves had to be represented as Wikidata items, just like other sources used there. Here however we did not have works or scientific articles, but thematic mini-collections of press clippings, often not notable in themselves and normally without further formal bibliographic data. So a class of PM20 country/subject folder was created (as subclass of dossier, a collection of documents). Aiming at items for each folder - and having them linked via PM20 folder ID (P4293) to the actual press archive folders was yet only part of the solution.

In order to represent the faceted structure of the archive, we needed anchor points for both facets. That was easy for the geographical categories: the vast majority of them already existed as items in Wikidata, a few historical ones, such as Russian peripheral countries, had to be created. For the subject categories, the situation was much different. Categories such as The country and its people, politics and economy, general or Postal services, telegraphy and telephony were constructed as baskets for collecting articles on certain broader topics. They do not have an equivalent in Wikidata, which tries to describe real world entities or clear-cut concepts. We decided therefore to represent the categories of the subject category system with their own items of type PM20 subject category. Each of the about 1400 categories is connected to the upper one via a "part of" (P361) property, thus forming a five-level hierarchy.

More implementation subtleties

For both facets, according Wikidata properties where created as "PM20 geo code" (P8483) and "PM20 subject code" (P8484). As external identifiers, they link directly to lists of subjects (e.g., for Japan) or geographical entities (e.g., for The country ..., general). For all countries where the press archives material has been processed - this includes the tedious task of clarifying the intellectual property rights status of each article -, the Wikidata item for the country includes now a link to a list of all press archives dossiers about this country, covering the first half of the 20th century.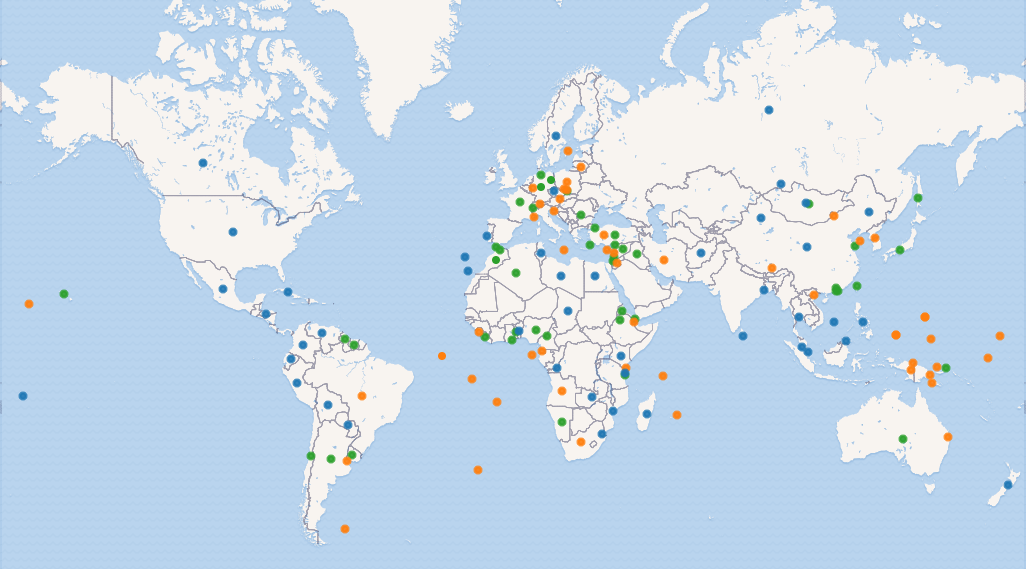 The folders represented in Wikidata (e.g., Japan : The country ..., general) use "facet of" (P1269) and "main subject" (P921) properties to connect to the items for the country and subject categories. Thus, not only each of the 9,200 accessible folders of the PM20 country/subject archive is accessible via Wikidata. Since the structural metadata of PM20 is available, too, it can be queried in its various dimensions - see for example the list of top level subject categories with the number of folders and documents, or a list of folders per country, ordered by signature (with subtleties covered by a "series ordial" (P1545) qualifier). The interactive map of subject folders as shown above is also created by a SPARQL query, and gives a first impression of the geographical areas covered in depth - or yet only sparsely - in the online archive.

Core areas: worldwide economy, worldwide colonialism

The online data reveals core areas of attention during 40 years of press clippings collection until 1949. Economy, of course, was in the focus of the former HWWA (Hamburg Archive for the International Economy), in Germany and namely Hamburg, as well as in every other country. More than half of all subject categories are part of the n Economy section of the category system and give in 4,500 folders very detailed access to the field. About 100,000 of the almost 270,000 online documents of the archive are part of this section, followed by history and general politics, foreign policy, and public finance, down to more peripheral topics like settling and migration, minorities, justice or literature. Originating in the history of the institution (which was founded as "Zentralstelle des Hamburgischen Kolonialinstituts", the central office of the Hamburg colonial institute) colonial efforts all over the world were monitored closely. We published with priority the material about the former German colonies, listed in the Archivführer Deutsche Kolonialgeschichte (Archive guide to the German Colonial Past, also interconnected to Wikidata). Originally collected to support the aggressive and inhuman policy of the German Empire, it is now available to serve as research material for critical analysis in the emerging field of colonial and postcolonial studies.

Enabling future community efforts

While all material about the German colonies (and some about the Italian ones) is online, and accessible now via Wikidata, this is not true for the former British/French/Dutch/Belgian colonies. While Japan or Argentina are accessible completely, China, India or the US are missing, as well as most of the European countries. And while 800+ folders about Hamburg cover it's contemporary history quite well, the vast majority of the material about Germany as a whole is only accessible "on premises" within ZBW's locations. It however is available as digital images, and can be accessed through finding aids (in German), which in the reading rooms directly link to a document viewer. The metadata for this material is now open data and can be changed and enhanced in Wikidata. A very selective example how that could work is a topic in German-Danish history - the 1920 Schleswig plebiscites. The PM20 folder about these events was not part of the published material, but got some interest with last year's centenary. The PM20 metadata on Wikidata made it possible to create an according folder completely in Wikidata, Nordslesvig : Historical events, with a (provisional) link to a stretch of images on a digitized film. While the checking and activation of these images for the public was a one-time effort in the context of an open science event, the creation of a new PM20 folder on Wikidata may demonstrate how open metadata can be used by a dedicated community of knowledge to enable access to not-yet-open knowledge. Current intellectual property law in the EU forbids open access to all digitized clippings from newspapers published in 1960 until 2031, and all where the death date of a named author is not known until after 2100. Of course, we hope for a change in that obstrusive legislation in a not-so-far future. We are confident that the metadata about the material, now in Wikidata, will help bridging the gap until it will finally be possible to use all digitized press archives contents as open scientific and educational resources, within and outside of the Wikimedia projects.
More information at WikiProject 20th Century Press Archives, which links also to the code for creating this data donation.